Boarding includes 3 daily walks outside on retractable leashes and feeding Science Diet Sensitive Stomach. Cat boarders are in their own room.
Boarding runs are solid on the bottom so your pet does not have direct access to their neighbors. A 3 foot diameter fan is in the wall of the boarding facility to remove odors, viruses, and bacteria from the air. All pets are current on their vaccinations and are flea free. We go out of our way to keep your pet healthy and safe while they are visiting us.
Indoor and Indoor/Outdoor runs are available for our canine friends. We also offer off-leash outdoor play time for an additional charge.
The Villa's at Frankfort Animal Hospital
In 2017, "The Villas at Frankfort Animal Hospital" were completed.  This is an additional 3,840 square foot addition that has 15 individual suites and 24 indoor/outdoor runs. The floor has radiant heat, so the pets can choose what temperature they would like to be. Veterinarians are on site 6 days a week and veterinary technicians are helping in the kennel on a daily basis.
Raintree Cat Condos
"Raintree Cat Condos" are a recent addition for cat boarders. Cats have a multilevel play area and separate private litter box area. This entire room is only for cats so they do not have the stress of seeing or hearing dogs.
​
Doggy Daycare
Do you need a day away? Does your dog need a day of fun?
The Villas at Frankfort Animal Hospital offers Doggy Daycare. Your dog will receive a minimum of 3 walks daily and lots of interactive playtime. We have a large indoor play room as well as two large fenced yards.
Book your dog's play day today!
Boarding Suites with Cameras
Let our staff "baby" your babies when you can't be here to do it.
Boarding Suites are individual rooms that have indoor color web cameras, so you can view your pet anytime, from anywhere you have an Internet connection.
To view your pet, please download one of the SmartPhone Apps available via the Google Play Store or Apples App Store or one of the Computer programs for Windows or MAC.
Once downloaded follow the onscreen instructions to setup the camera with the following settings.
Device Name: FrankfortAnimal
Connection: P2P
UID: N6G8V57L4R3LVJ3D46PJ (You can also use your Smart Phones Camera to scan the QR code below.)
User Name: admin
Password: 11772
(Once entered press the "Save" button or Icon then the "Start Preview" button at the bottom)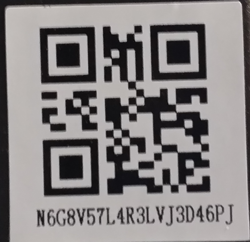 (On the UID line press the far right to activate the Camera.)
These suites are quiet individual rooms with windows, their own bed, blankets, CD player, nightlight, and whatever else you would like to bring along with them.
If your pet is boarding with us and you would like to check and see how they are doing, please e-mail us at boarding@frankfortanimal.com. These e-mails will be checked and responded to Monday-Friday between 3-5pm.
If a pet is picked up before noon on Monday-Friday, they are not charged for that day.  We can not offer this discount on pets picked up on Saturday since we will not be able to refill that boarding location for the weekend.
If your pet needs medications while boarding, we are happy to give them.  A veterinary technician will make sure your pet is medicated properly.  We do charge a small fee per day for medication due to the extended time that this takes when conducted properly.
Please visit for a tour of our boarding facilities, including our boarding suites.
For more information on our boarding facilities, please call us at (765) 249-7387 or email us at boarding@frankfortanimal.com.